OFFICIAL
REPRESENTATIVE
IN CYPRUS
Growing up with the best that nature has to offer
Always ORGANIC- for all the right reasons
We are proud of our brand Holle's 85 years' history, and of the fact that Holle has become one of the leading manufacturers of organic baby food. Click here to find out more about our company's history.
Ever since our company was founded, we have consciously focused our attention on mankind and the environment – because we want our products to deserve being called "sustainable". Click here to find out more about our commitment to sustainability.
Today, we have a comprehensive baby food range with more than 80 products representing the message "Always ORGANIC - for all the right reasons". From the start, we have focused on naturalness: Holle baby food is being produced only with raw ingredients grown to biodynamic or organic standards. We do not use chemical processing materials and preservatives, flavouring and colouring agents, added salt or granulated sugar.
Our long-term partnerships with our organic raw material suppliers are very important to us. They are the basis for the particularly high quality of our baby food.
Holle baby food products are gently processed; they represent a wholesome, natural and balanced diet, from the very beginning. Click here to see our entire organic baby food product range.
Infant Formula & Follow-on milk

Organic Baby Porridge: Holle organic baby porridge come in fine, readily soluble flakes and are made using whole grains. Our porridge can be prepared in a number of ways to add variety to your baby's weaning diet.

Organic Junior Muesli: Holle Organic Junior Muesli are a tasty mix of carefully selected wholegrain cereals. The fine flakes are easy to chew and guarantee a unique breakfast experience.

Organic Milk Cereals: Want a quick evening meal for your baby? Use instant Holle organic milk cereals. Just add hot water to a bowl and stir in the cereal flakes - your baby's meal is ready.

Organic Jars: From A for apple to Z for zucchini. Weaning with Holle baby jars gives your baby a balanced, varied and versatile diet.

Organic Pouches: Tasty organic fruit and vegetable purées. Without added sugar or salt. The ideal snack between meals or on the go. With ingredients of best Demeter quality.

Kids: Child-friendly snacks in the familiar: Holle quality - Discover our savoury and fruity treats designed to meet the dietary requirements of children from 3 years old.

Other Ranges: Whether rusks, biscuits, fruit bars, tea or weaning oil - carefully selected ingredients and nutritionally balanced recipes give your baby variety and make feeding time fun.
Holle offers a wide range of Demeter products like porridges, formula milks including goats milk nutrition, rusks or baby food jars from the first vegetables to junior menus. Since the very beginning, over 80 years ago, we have focused on naturalness and the use of pesticides or chemical fertilisers are strictly prohibited without any compromises. Today we are still using only raw ingredients grown to biodynamic or organic standards for our baby food : The basis for the special quality in the Holle baby food.
The production for the Holle baby formula milks and baby porridges takes place in Germany. Our production lines are modern using the newest technology and are ISO certified. The grain used for our formula milks and porridges grows in healthy soil on Demeter certified biodynamic farms in Germany. Additional we are only buying in rice from Italy and millet grain from Hungary.
​
Because we have your child in mind we are only using Demeter grains from organic farmers with whom we have a long-term established and trustful relationship.
The milk we are using for the Holle Organic milk formulas is produced in organic farms in south Germany. For our baby food jars we are using exclusively organic fruit and vegetables and meat from either biodynamic or organic agriculture. This ensures the best quality, tasty and full of nutrition which are so important for babies and children.
Guarantee for the highest-possible product safety
No pesticides or chemical fertilisers are used to grow our raw ingredients.

We use only biodynamically or organically grown food.

A close working relationship with our Demeter certified farmers guarantees a long term supply of high quality raw ingredients.

We take great care of our raw ingredients and how they are processed and cooked. We ensure this through an ongoing quality control system.

Every item of food we produce is constantly checked to make sure it meets the highest legal, safety and nutritional requirements.

Every one of our baby foods are guaranteed to be free from genetically modified ingredients (in accordance with EU regulations). We never use artificial flavourings, colourings or preservatives, and we don't add refined sugar.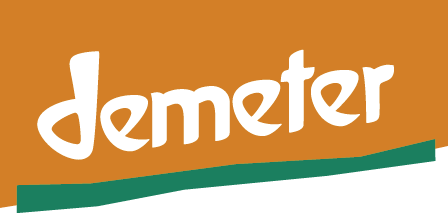 Demeter is the trademark for goods produced from biodynamic agriculture. Only strictly regulated partners are able to use the Demeter label. These regulations are set by the Demeter Society, whose criteria extend far beyond the standard organic farming certification. From growing to processing, all stages of production are checked - without any compromises. You can read more in pages of this advisor or by searching online for your local biodynamic or Demeter organisation.
The EU Organic Certification logo appears on every one of our baby foods. It is your guarantee that our products are grown and processed in a tightly regulated way to ensure its quality. Under the green logo you will find a certification number showing where a product was produced and where it was checked. DE for instance stands for Germany. Underneath, there is also a note about the origin of the processed raw materials, e.g. " EU-agriculture".
Here you can access our Organic Certificates, resp. the certificates in accordance with Eco Regulation.